Canvas - Copy a full course or parts of a course into another course shell
---
| | |
| --- | --- |
| | 2023 |
---
Canvas - Copy a full course or parts of a course into another course shell
You can copy course content such as assignments, modules, pages, and discussions from previous Canvas courses into existing courses. You only have access to copy content from courses in which you are enrolled as a user with instructor permissions.
Please Read | Important
A change from Blackboard is that you do this process from the DESTINATION course. For example, if you want to import a fall 2022 course into a source shell, you will go to the source shell to initiate this process.
Open Settings
In Course Navigation, click the Settings link.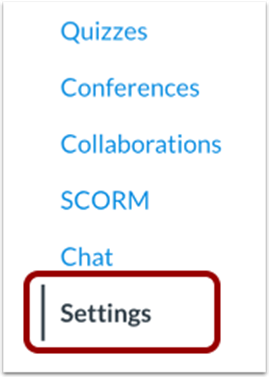 Import Content into Course
Click the Import Course Content link.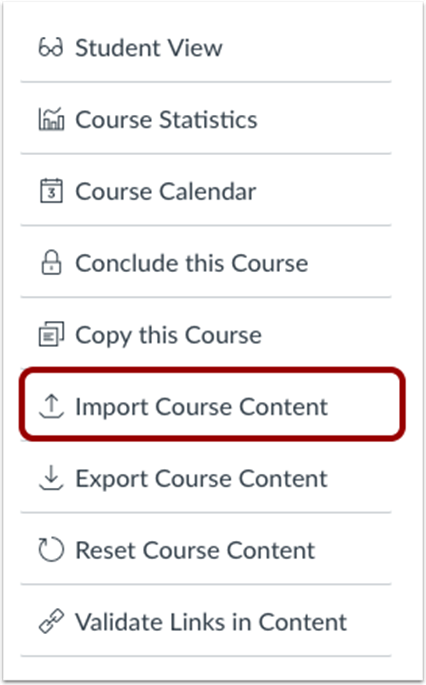 Select Content Type
In the Content Type drop-down menu, select the Copy a Canvas Course option.

Search for a Course
In the Search for a course drop-down menu:
Select the course you would like to access. Courses are ordered alphabetically by most recent term. You can also choose to include completed courses by selecting the completed courses checkbox.

The Include completed courses checkbox is selected by default.

To search for a course by name, enter the name in the Course Name Click the name of the course when it appears.

Note: If you have access to more than 100 courses, the search page only displays the Course Name field.
Select Migration Content
To import all content from the course, select the All Content radio button [1].
If you want to select specific content, click the Select specific content radio button [2].
Note: If you select the specific content option, you are required to select the content you want to import after you review the remaining page options. After you start importing the content, the import selection cannot be canceled.

Adjust Events and Due Dates
If you want to adjust the due dates associated with the course events and assignments, click the Adjust events and due dates checkbox.

Note: Click the hyperlinked article above to learn more about this feature.
---
Article ID: 12578
Created: January 26, 2023
Last Updated: April 28, 2023
Author: Kimberly Springfield
Online URL: https://kb.mc3.edu/article.php?id=12578