Faculty - Qwickly Attendance Tool in Blackboard: Setup and Take Attendance
---
| | |
| --- | --- |
| | 2022 |
---
Faculty -  Qwickly Attendance Tool in Blackboard: Setup and Take Attendance
This course tool enables faculty to take attendance that is automatically graded in the Blackboard Grade Center. Faculty can take attendance using an attendance list on screen or allow students to check in on their own browser, with a PIN and countdown timer.
Part 1: Create an Attendance Button/Link on the Course Menu
1. At the top of your course menu, select the plus (+) button and select Tool Link. Note: If you do not see the (+) button please check to make sure that edit mode is set to "On".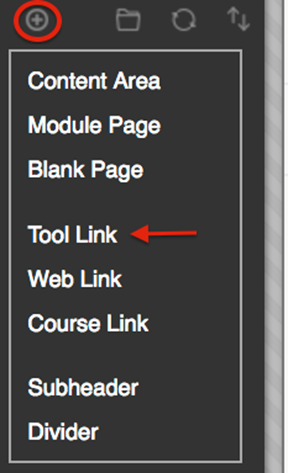 2. In the pop-up window, enter a Name for your link. This is the name that will appear in the course menu.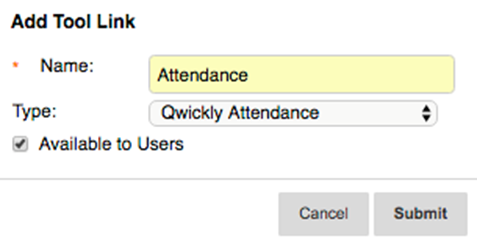 3. Under Type select "Quickly Attendance" from the dropdown menu. 
4. Check Available to Users to make the link available to students (optional).
5. Select Submit at the bottom of the window. 
6. Your link will now appear at the bottom of your course menu. To move this link, hover over the left side of the item until a up/down arrow appears (see image). Once the arrow has appeared, click and drag your link to the desired position.  

Part 2: Setting Up Your Attendance
1. Select the newly created link on your course menu. 
2. When launching the LTI tool for the first time, an authorization request will appear. Click Allow to continue to approve the request.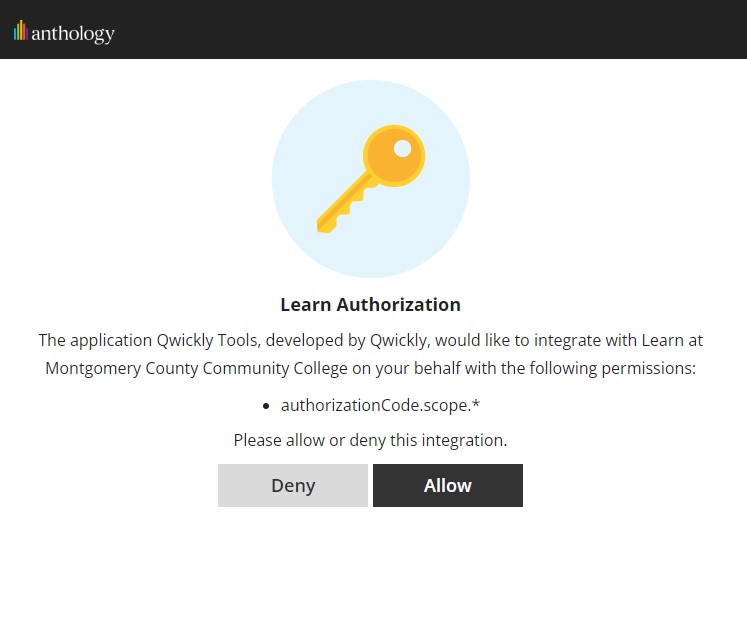 3. On the next page, select Begin Setup. 

4. You will be automatically redirected to the settings page. 
5. On the Preferences tab, select your preferred method of User Sorting (name display), View Preferences, and whether you will be utilizing a Check In for students.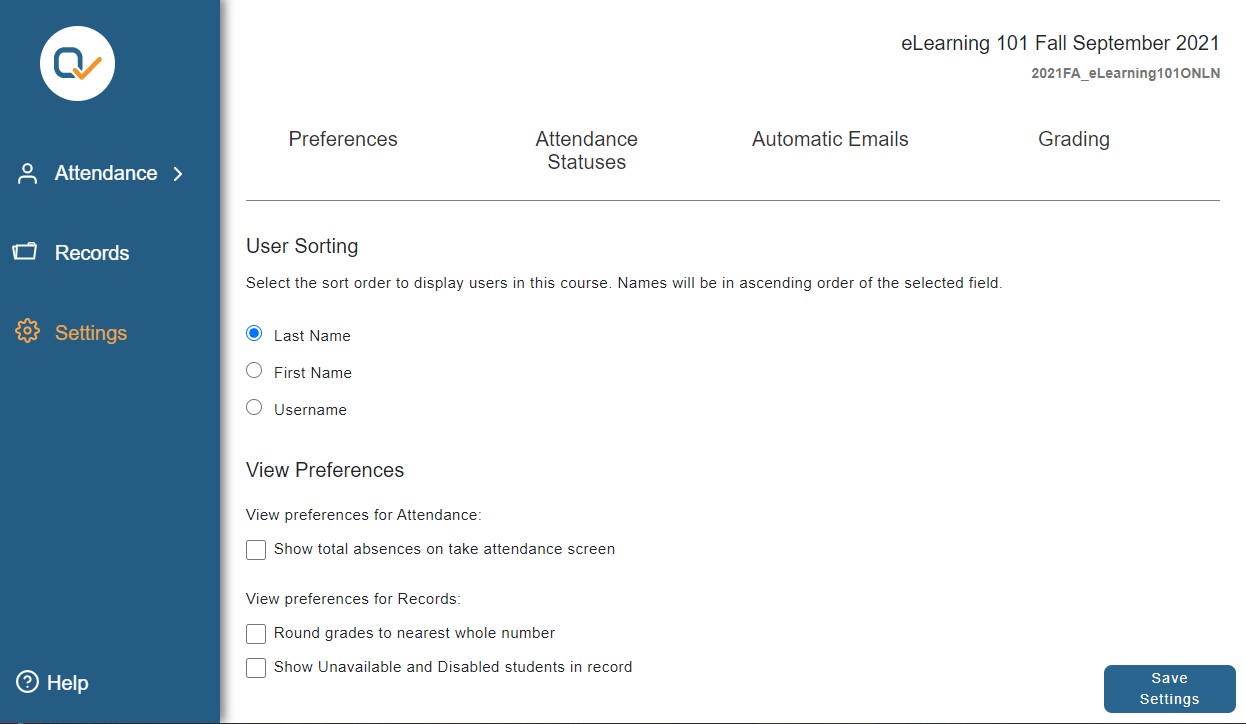 6. Under Attendance Statuses, select your System Statuses and add any additional custom statuses (if applicable).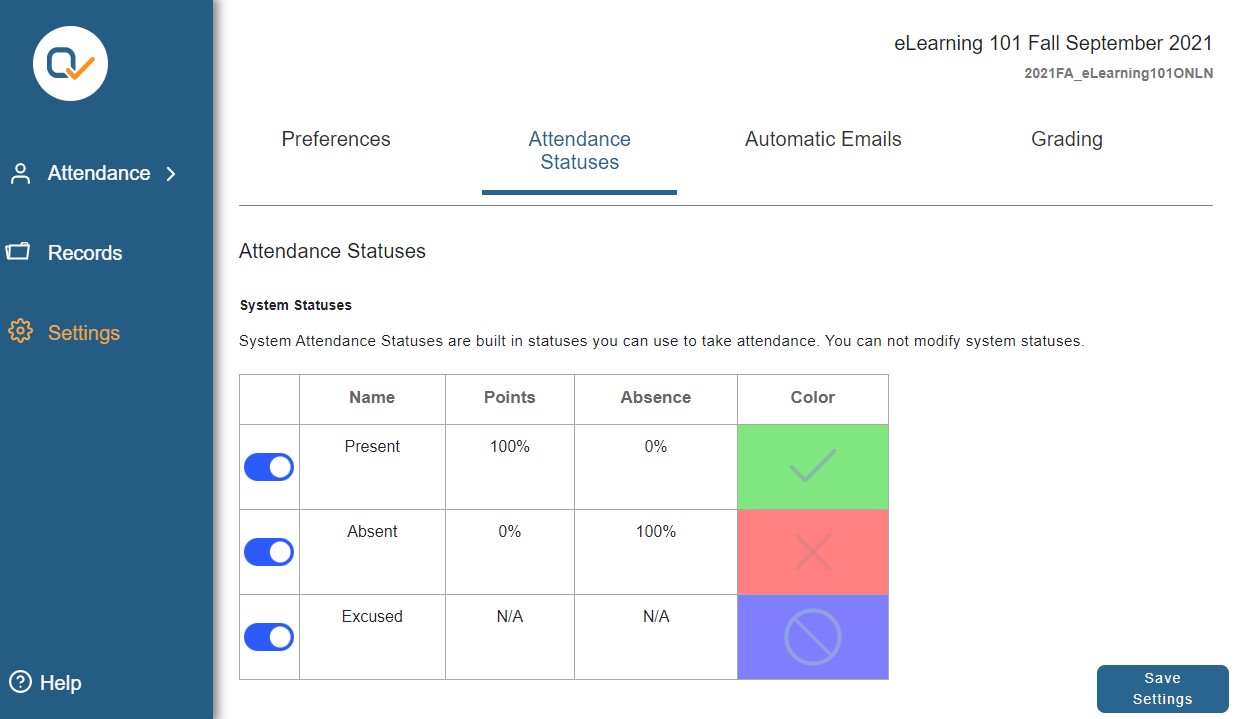 7. On the next tab, determine whether you want students to receive Automatic Emails. 
8. Under Grading, you may choose one of two grading options: Session Based or Absence Based. Both options will automatically create a column within the Grade Center. 
If using Session Based Grading, determine whether you will be grading via Total Points or Points Per Session and enter any additional required information. 
If using Absence Based Grading, complete the column information in the drop-down that appears.

Note: If you wish to log but not grade attendance, do not make a selection and leave this section blank.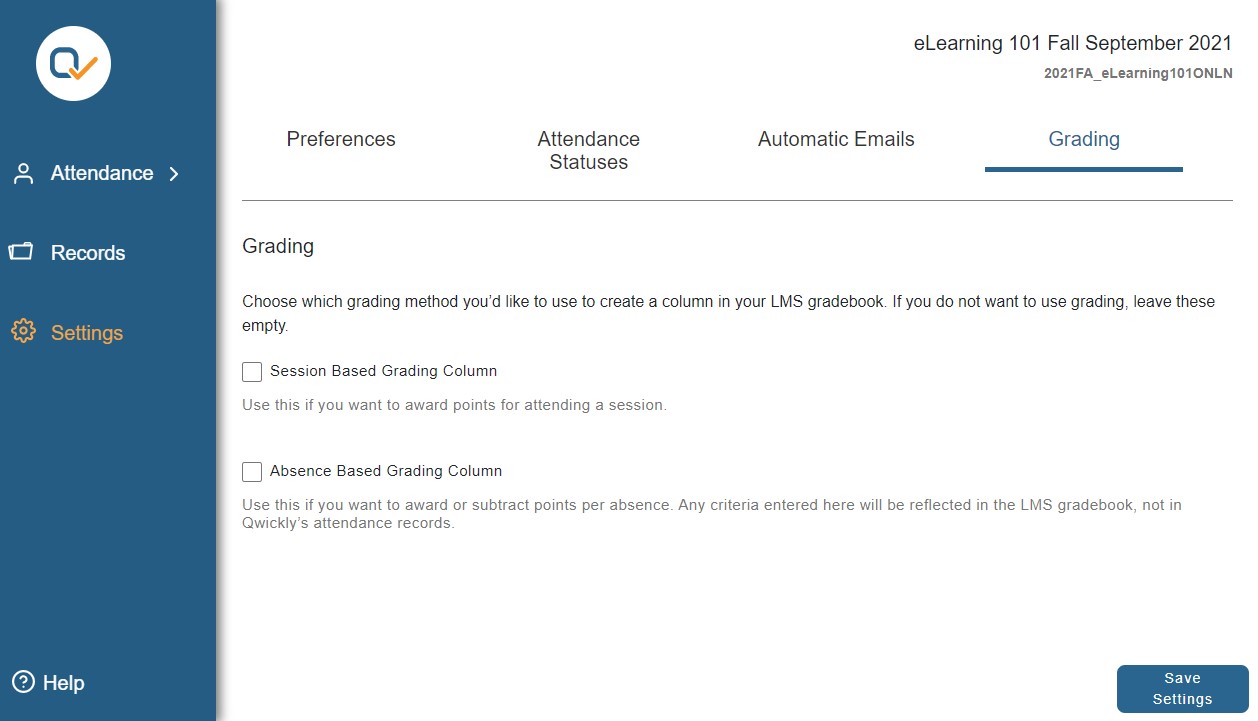 9. Once you are finished, select Save Settings at the bottom-right of the page. 
Part 3: Take Attendance
To take attendance, launch Quickly LTI and select Attendance from the application menu. In this section you will see multiple modes of ways to take attendance, including Check-in, List, and One-by-One. For more information, please visit Quickly's website. 
To view attendance records, select Records within the application menu. 
A Note for Students Using Qwickly Attendance for the First Time...
If you make your attendance link available to students, they will receive a message asking them to accept their use of the tool within the course. 
If they choose Accept, they will be accepting for all courses now and in the future.
If they chose Deny, it will deny for all courses now and in the future.

To change Deny > Accept, students just need to re-click the attendance link. Until students accept, they will continue to receive this prompt each time they access the attendance link.
---
Article ID: 941
Created On: Wed, Jun 22, 2016 at 3:53 PM
Last Updated On: Wed, Aug 17, 2022 at 3:24 PM

Online URL: https://kb.mc3.edu/article/faculty-qwickly-attendance-tool-in-blackboard-setup-and-take-attendance-941.html