| | |
| --- | --- |
| | 2016 |
---
Faculty - Adaptive Release: Review Status
You can use Adaptive Release to require students to review a content item before the remaining content becomes available to them. For example, you may want students to read the Student Code of Conduct on our website and mark that they reviewed it before they can progress further in the course.
To set review status restrictions on activities or content items:
1.  Navigate to the folder, module or item that will be tracked then click on the chevron to the right of the item.
2.  Click on Adaptive Release.
3.  Several settings can be made on this page but for this example, scroll to the bottom of this page to the Review Status section.
4.  Click the Browse button.

5.  The course map displays as shown here. Select the item that the student must review before additional content will be made available.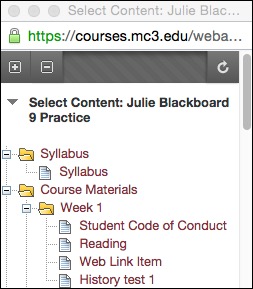 6.  Click Submit.