Faculty - Adaptive Release Overview
| | |
| --- | --- |
| | 2022 |
---
Faculty - Adaptive Release Overview
Adaptive release allows you to release course content based on rules that you create; in other words, you control what content is made available to which students and under what conditions they are allowed to see it. Rules can be created for individuals or groups, based on criteria related to date, time, assessment scores or attempts, and the review status of other items in the course. For example, you can:
Allow students to view particular unit or resource only after they have attained a minimum score on a quiz.
Share different supplementary materials with groups of students working on different projects.
Share different schedule materials and syllabi with students in different sections but using the same course shell.
Restrict students from joining a discussion forum until they have reviewed relevant course materials.
Make the next assignment available only to those who have read a specific material.
The following options are available with the Adaptive Release tool: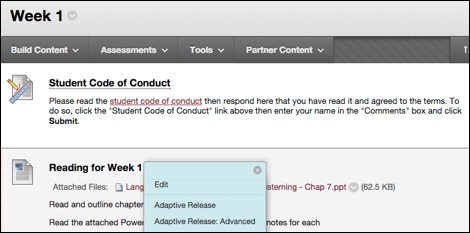 Adaptive Release – used to create basic rules for an item. In this tool only one rule per item may be created.
Adaptive Release Advanced – this feature allows instructors to create multiple rules per item. For example, if different rules apply for different Groups in a course this feature should be used.
Posted - Mon, Mar 7, 2016 at 2:01 PM. This article has been viewed 6946 times.
Online URL: https://kb.mc3.edu/article/faculty-adaptive-release-overview-898.html
Powered by PHPKB (Knowledge Base Software)