Faculty and Students - Editing a Blackboard Wiki Page
| | |
| --- | --- |
| | 2018 |
---
Faculty and Students - Editing a Blackboard Wiki Page
To edit a wiki page, navigate to the wiki in your course and click on the Wiki name.

Click the Edit Wiki Content button to edit the current page displayed. If you have multiple pages, they will be listed on the right side of the window. To edit a different page, click on the name of that page then click the Edit Wiki Content button.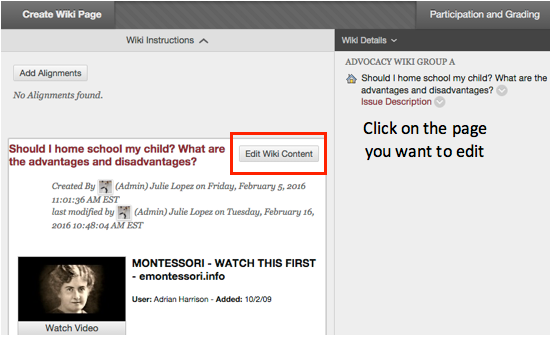 Posted - Tue, Feb 16, 2016 at 11:38 AM. This article has been viewed 8158 times.
Online URL: https://kb.mc3.edu/article/faculty-and-students-editing-a-blackboard-wiki-page-870.html
Powered by PHPKB (Knowledge Base Software)