| | |
| --- | --- |
| | 2022 |
---
Microsoft Teams - Tips and Tricks
While working remotely, you may find it useful to use Microsoft Teams to communicate with colleagues. While we have documentation for the majority of the program's features available on the College's Knowledge Base (located at https://kb.mc3.edu,) here are some helpful tips to make the most of the program's various features.
Don't have Teams on your college-owned laptop?
Good news! The IT department has made Teams available to all users with just a few clicks – no IT intervention needed. Simply open the Helpdesk folder on your desktop (represented by a green shield with a white checkmark, first image below) and double click on Install Microsoft Teams (second image.) Please be aware that you must be online to install this software, so only do this once you've connected to a wireless or wired Internet connection.


Group audio/video chat? Mute/Unmute to reduce background noise!
When in a call (whether audio only or with video) with multiple users, it's easy for sounds from multiple ends to conflict with each other. An easy way to manage this is to utilize the Mute button (circled below) to turn off your microphone input! You can click again to turn it back on if you need to speak, but this way ambient noise, pets, and other household members won't cause issues for anyone else on the call.

In a video call but don't want to show your own camera? Need to turn off video temporarily for any reason? You can toggle your own video settings using the button shown below. Just like the Mute button, you can toggle video on and off just by clicking on it again.

In a video call that's experiencing lag? Maybe the call is breaking up and you either know or suspect it's due to your internet slowing down. This is especially an issue in larger calls where you're receiving multiple video inputs. Teams offers a convenient way to disable all incoming video with just a couple of clicks! Simply click the "More" option (represented by three dots, circled in the first image) and then the "Turn Off Incoming Video" option that appears in the menu (second image.) This will save your internet some stress and may improve call quality.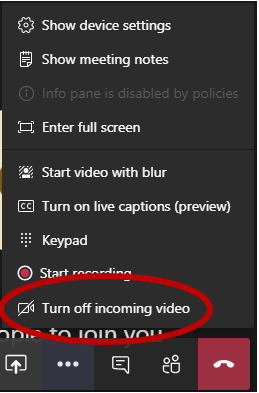 Having trouble with which device Teams is using for audio calls – either speaker or microphone?
If Teams automatically detects an audio device that you don't want it to use (some HDMI or DisplayPort monitors will be detected as audio devices, for example,) or if you just want to change between different microphones or speakers, you can do so with just a few clicks! First, click the "More" icon, represented by three dots (first image.) Then, click "Show Device Settings" in the menu that appears (second image.)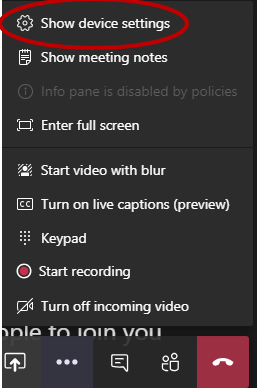 From here, you will see several drop down menus to select devices. The "Speaker" menu controls what device call audio will play through on your end, while the "Microphone" menu controls which device will be recording your voice input. An example image is provided below – please remember that the devices listed will very likely differ from what you see on your screen.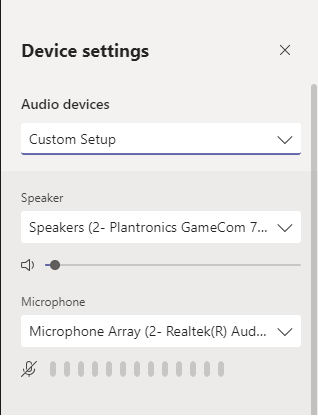 Do you have colleagues you are on and off of calls with often? Add them to Speed Dial! Simply click the "Add Speed Dial" button (circled below in the Calls tab, enter the name of a colleague, and select them from the list that appears. They will then appear at the top of the call list, above all other contacts. Save time searching and call with a single click!

Want to quickly create a meeting and let people join with one click? You can instantly start a meeting with the "Meet Now" button located at the top right of the Calendar tab.

This will pull up the usual screen you see before joining a meeting so you can decide whether to enable/disable your video and microphone before joining. And as for how to get people in easily: click the "Show Participants" icon (first image,) click the "Copy Join Info" button (second image,) and then simply paste the join link that is copied into any email, Teams channel, or one-on-one chat and any user will be able to click it and join your meeting! An example link is shown in the third image as it would appear in a Teams chat.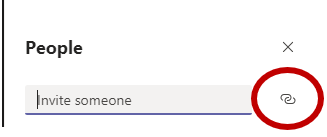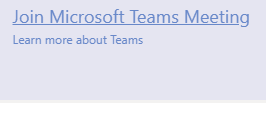 Want to see who's in your meeting? It's easy – just click the "Show Participants" button circled below and a list of users will appear on the right side of the screen.

Want to blur your background during a video meeting? The following link provides a step-by-step process for blurring your surroundings. Be aware this option is only available for scheduled meetings and is not 100% reliable if you are trying to hide sensitive info – better to move it out of view than rely on the blur. Here is the link.
Need to full screen a presentation? When another user is presenting, you will have the option to full screen their presentation to make it easier to see. After clicking the "More" option (first image,) you will be presented with the menu in the second image with the option to "Enter Full Screen."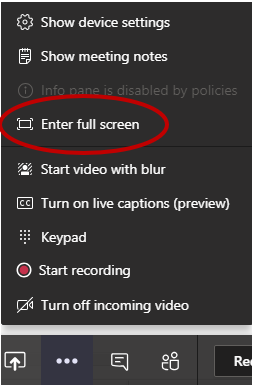 Got more questions about Teams? If you can't find what you need in the Knowledge Base (remember, https://kb.mc3.edu ) or if you are experiencing issues or difficulties, please feel free to contact the Help Desk at helpdesk@mc3.edu .
Some Helpful Knowledge Base/Microsoft Support Links:
Teams Overview – Setup, Chats, and More