Office 365 - Outlook Web Access (OWA) - Unable to view/open an e-mail attachment
| | |
| --- | --- |
| | 2015 |
---
Unable to view/open an Office 365 e-mail attachment
Certain attachment types are blocked in Office 365.  A security feature exists within many of the Office 365 clients that blocks attachments that might put your computer at risk for viruses or other threat.

This example shows an attachment titled "database1.accdb." If you attempt to click on the image to open/view it, you will see the following message.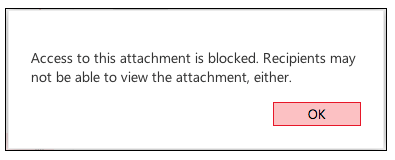 How can I get the attachment if I cannot see it or open it?
When using Office365 OWA you can click on save the attachment to OneDrive and open from there.

For more information about blocked attachments in Outlook please view this Microsoft support article.

https://support.office.com/en-US/Article/Blocked-attachments-in-Outlook-434752e1-02d3-4e90-9124-8b81e49a8519?ui=en-US&rs=en-US&ad=US

 
Posted by:

Joshua Eckenrode

- October 30, 2015. This article has been viewed 12465 times.
Online URL: https://kb.mc3.edu/article.php?id=798
Powered by PHPKB (Knowledge Base Software)