Faculty - Blackboard Analytics: Course Submission Summary
| | |
| --- | --- |
| | 2018 |
---
Faculty - Blackboard Analytics: Course Submission Summary
This document will review and explain one of the pre-set Blackboard Analytic reports available to the instructor within each course. It contains a brief description of the report, an explanation of how to run the report, and an explanation of each area within the report.
Course Submission Summary
This report helps instructors see a summary report of student submissions within the course using this report. Instructors can analyze and identify: 
Students below the average may not be sufficiently engaged in the course and may indicate the need for additional assistance.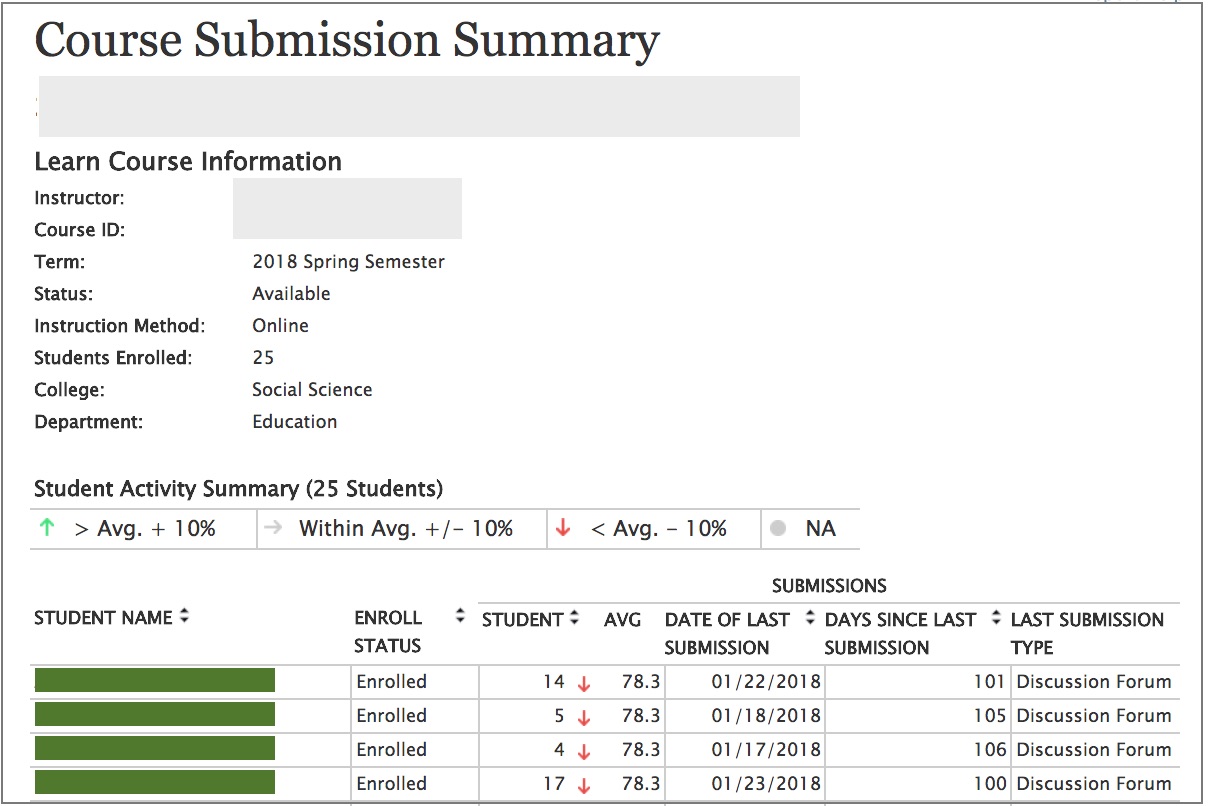 How to Access Course Submission Summary   
1.

Under the Control Panel, click the Evaluation button.

2.

Under Evaluation, click Course Analytics.

3.

Click on Course Submission Summary text. 
Learn Course Information
Several of the reports contain the Learn Course Information at the top. Located below is a description of each, how it is pulled, and what the identifiers mean.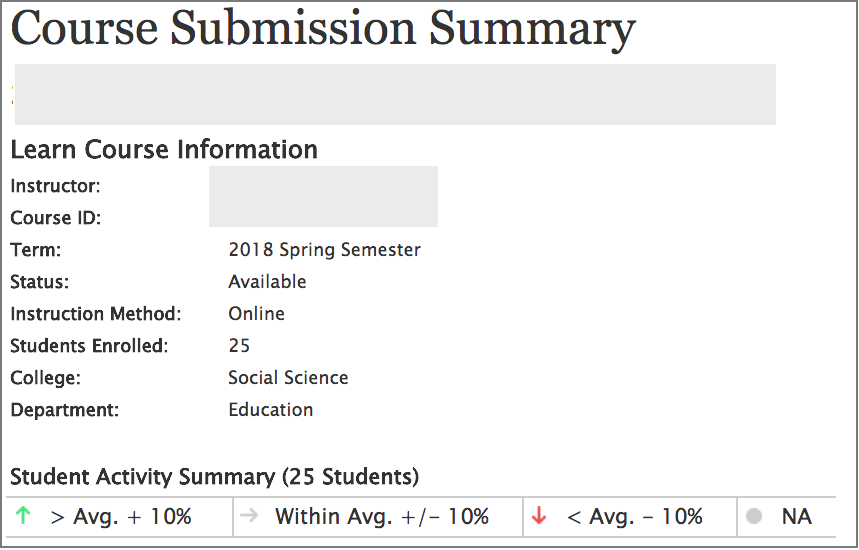 Instructor:

is the person teaching the course based on information pulled from Datatel (Colleague). 

Course ID:

is pulled from Datatel (Colleague). 

Term:

is the year and semester.

Status:

is the course available (currently running) or inactive (previous semesters). 

Instruction Method:

is used to determine if the course is face-to-face, hybrid, or online. This is used to compare like courses within the department. 

Students Enrolled:

is the number of students enrolled in this particular course.

College:

is based upon MCCC's division structure.

Department:

is based on MCCC's discipline/department structure.
Student Activity Summary displays information and submission activity for each student: 
Student: The name of the student as a link to the Student at a Glance report. Click on the link to show the individual student activity compared to the course average. 
If you click on the students' name, the following information will appear:

If you allow students to view their reports this is the report they would see. For details on student report view, see the Blackboard Analytics Student Report document.

Note: In the Compared to Course Average Report, the student view, any reference to "You" means the specific student.
Enroll Status: 

The enrollment status of the student from the student information system.

 

 

The following colors are conditionally displayed for all measures.

 

Submissions: 

(any assignments, discussion board posts, tests submitted in the course, etc.) The number of student submissions by submission type for the given Blackboard Course.

Avg.: 

The average number of student submissions for the submission type for the given Blackboard course.

Date of Last Submission: 

The date of the student's last submission for the course.

  

Days Since Last Submission: 

The number of days since the last submission for submission type for the course.

Last Submission Type: 

The last submission type displaying in the report row for that student.

 
Posted - Tue, May 5, 2015 at 12:33 PM. This article has been viewed 7246 times.
Online URL: https://kb.mc3.edu/article/faculty-blackboard-analytics-course-submission-summary-661.html
Powered by PHPKB (Knowledge Base Software)