Appointment Configuration
Can I limit some of my appointments to students I'm teaching and others to my advisees?

Starfish allows your institution to create different types of appointments that allow faculty and staff members to limit access to their office hours to different groups of students. For example, your institution might create appointment types for Advising and Teaching. Depending on your roles in Starfish you may have access to one or more of these appointment types.

If appointment types have been created and you have access to them you will see an Appointment Types field on the Add Office Hours form.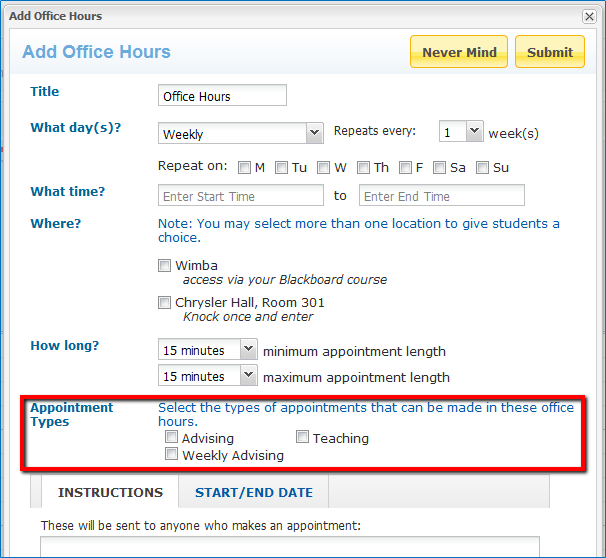 Select one or more of the appointment types to limit your office hours block to the specified group of students. For example, if you have an "Advising" option and a "Teaching" option and you want to limit your office hours block to your advisees only, you would check the "Advising" checkbox only.
---
Posted - Tue, Nov 11, 2014 at 1:54 PM. This article has been viewed 9985 times.
Online URL: https://kb.mc3.edu/article/appointment-configuration-376.html
Powered by PHPKB (Knowledge Base Software)