| | |
| --- | --- |
| | 2022 |
---
Students - Navigate a Course in Blackboard
Note: This document was adapted from the Blackboard Help "Navigate a Course" resource at https://help.blackboard.com/Learn/Student/Getting_Started/Navigate_Inside_a_Course.
Courses vary in design depending on the instructor, but some common elements exist.
The Course Interface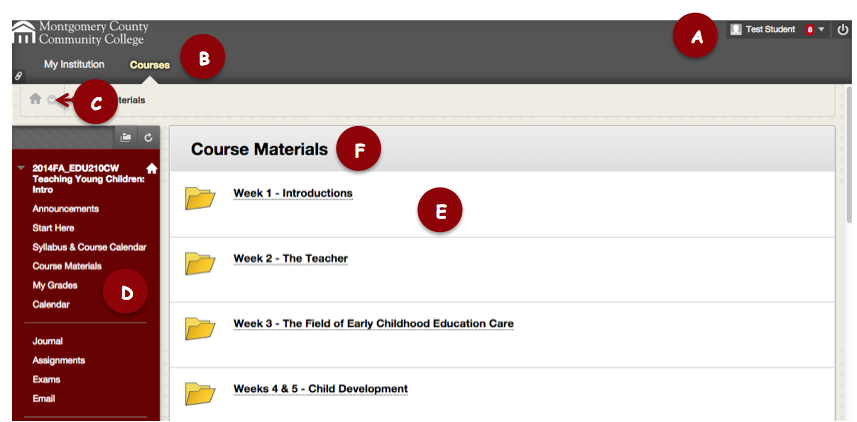 Page header:

The area at the top of the screen your avatar, access to the global navigation menu, and Logout. The page header elements remain the same regardless of where you are in Blackboard Learn.

Tabs:

Blackboard Learn has two common tabs, the My Institution tab and the Courses tab.

Course-to-course navigation:

Use this feature to access all courses you are enrolled in. Access the contextual menu next to the house icon to go to another course.

Course menu:

The access point for all course content. Instructors determine which links are available here. This example displays the Course Materials content area.

Content frame:

The larger area of the screen next to the course menu that displays the selected content area or material.
Course Menu
The course menu is the panel on the left side of the interface that contains links to the various course areas. Instructors can also provide links to the tools page, individual tools, websites, course items, and module pages. Instructors control the content and tools available on the course menu.
Instructors can customize the style of the course menu. They can change the color, add subheaders and dividers, and choose buttons or text for the links. These customizations create variations in the look and organization of your courses.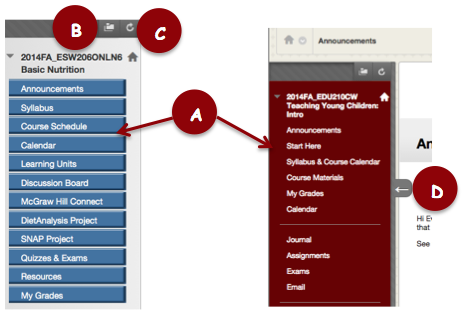 For the course menu design, instructors can use text only or labeled buttons for the links.

Open the course menu in a separate window.

Refresh your view.

Expand or collapse the course menu frame by moving your mouse pointer near the border and clicking the arrow. When you collapse the course menu, you have more room to view content.
Course-to-Course Navigation
| | |
| --- | --- |
| While inside one of your courses, you can conveniently access all of the courses you are enrolled in. Click the contextual menu next to the house icon. Click another course title. If the same page you are currently viewing in the course exists in the next course that is where you will land. The most recently visited course is listed first. | |