| | |
| --- | --- |
| | 2022 |
---
Faculty - Using Blackboard Ally
Video: Blackboard Ally (Captioned) - (Video Length - 00:02:18)
Ally is an accessibility tool in Blackboard that automatically scans your existing and newly uploaded course files and scores those files on how accessible they are. Currently, Ally checks PDF, Word and PowerPoint files.
When you are in Blackboard and looking at your course content, your content now has color "dials" next to them. They indicate the file's level of accessibility and are there to help you prioritize which files you want to fix first. Please note that your students can't see them. If you hover your mouse over the indicators, you'll see if the accessibility score is "low," "medium," "high," or "perfect." Click the indicator to see the percentage score, specific issues affecting the file, and instructions for improving the file.

Low (0-33%): Needs help! There are severe accessibility issues.

Medium (34-66%): A little better. The file is somewhat accessible and needs improvement.

High (67-99%): Almost there. The file is accessible but more improvements are possible.

Perfect (100%): Perfect! Ally didn't identify any accessibility issues but further improvements may still be possible.
The most common accessibility issues are as follows:
 

How to View Accessibility 
1.  Navigate to your Course Materials in Blackboard.  Your word documents, PowerPoint presentations and PDF files will have an accessibility score gauge next to it. 
2.  Click on the gauge or the accessibility score to open the instructor feedback.

3.  The instructor feedback will appear. Ally provides you detailed feedback and support to help you see what the accessibility issues are, why they matter, and how to fix them.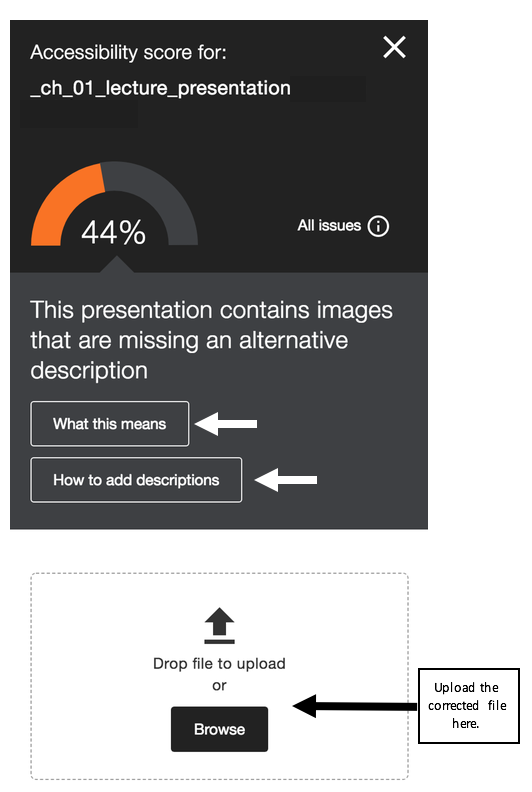 4.  Click on What this means to understand what the issue is.
5.  Click on the button below, in this example, How to add descriptions, for steps on how to fix the issue.
6.  Click on All issues if you want to see how much each fix will improve the accessibility of the file.
7.  Once you have made the corrections to your document, presentation or PDF file, drag or browse your computer to upload the corrected file here. The accessibility score will update to reflect those changes. The goal should be green!
Although students do not see the accessibility icons, Ally does allow students to download alternative file formats for PDF, Word and PowerPoint files if needed. Students will see an arrow next to the file that they can click on and select Alternative Formats. The alternative accessible formats are enhanced PDF, HTML, ePub, electronic Braille, and audio as shown below.