Infographic: The Importance of Captions with TechSmith Knowmia
| | |
| --- | --- |
| | 2021 |
---
Infographic: The Importance of Captions with TechSmith Knowmia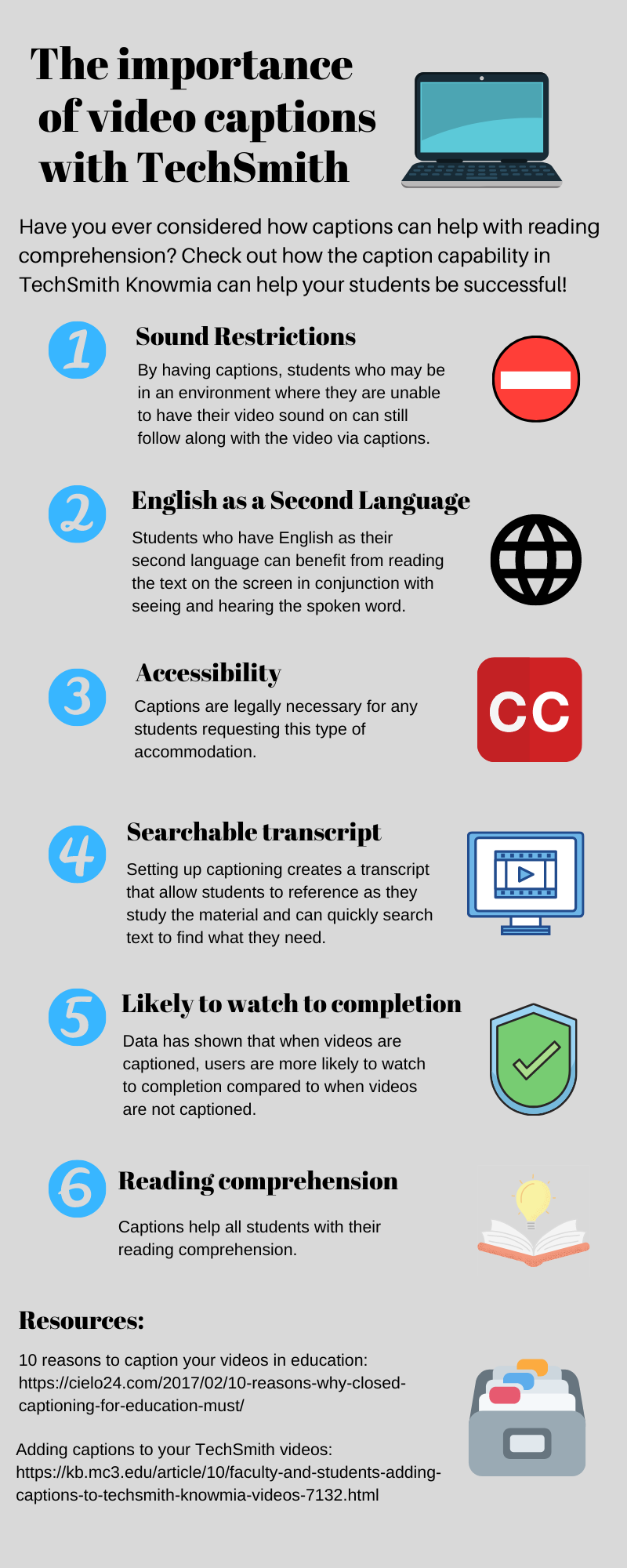 Alt Text: 
Title: The importance of videos captions with TechSmith
Description: Have you ever considered how captions can help with reading comprehension? Check out how the caption capability in TechSmith Knowmia can help your students be successful!
Sound Restrictions - By having captions, students who may be in an environment where they are unable to have their video sound on can still follow along with the video via captions.
English as a second language.- Students who have English as their second language can benefit from reading the text on the screen in conjunction with seeing and hearing the spoken word.
Accessibility - Captions are legally necessary for any students requiring this type of accommodation.
Searchable transcript - Setting up captioning creates a transcript that allow students to reference as they study the material and can quickly search text to find what they need.
Likely to watch to completion - Data has shown that when videos are captioned, users are more likely to watch to completion compared to when videos are not captioned.
Reading comprehension - captions help all students with their reading comprehension.
Resources: 10 reasons to caption your videos in education: https://cielo24.com/2017/02/10-reasons-why-closed-captioning-for-education-must/
Resources: Adding captions to your TechSmith videos: https://kb.mc3.edu/article/10/faculty-and-students-adding-captions-to-techsmith-knowmia-videos-7132.html
Posted - Thu, Jan 14, 2021 at 2:12 PM. This article has been viewed 3754 times.
Online URL: https://kb.mc3.edu/article/infographic-the-importance-of-captions-with-techsmith-knowmia-11361.html
Powered by PHPKB (Knowledge Base Software)