Software Updates on College Owned Windows Computers
Article ID: 698 |
permalink
| Rating: 1/5 from 1 votes | Last Updated: Mon, Mar 15, 2021 at 2:49 PM
The following information pertains to all College owned, Windows OS computers.
The College's IT Department manages the software installed on all campus computers. To maintain secure and current software configurations, IT regularly deploys updates and patches. Software vendors typically release patches on a regular schedule (monthly, quarterly, etc.) and additionally when a critical vulnerability is discovered. IT staff test all patches in a controlled environment and then deploy to all College owned computers. When available, software updates and patches will be automated without any interaction from the end user.
Software patch and update deployments are made available for a period of 7 days to permit the individual user to schedule installation (and system restart, if necessary). If the user does not take any action, patches and updates will be automatically installed (and computer rebooted, if necessary) at the end of the 7 day period. 
Initial Notification
Once the computer receives updates, you will be prompted with the following prompt from the system tray. You may click this message to take action. If you choose not to take immediate action you can later return to the system tray icon 

. 

From the notification or system tray icon, you may select the option to apply all changes now or apply changes outside business hours. If you select the option to install outside of business hours, the updates will install after 10 PM and before 5 AM, assuming the device is powered on at that time.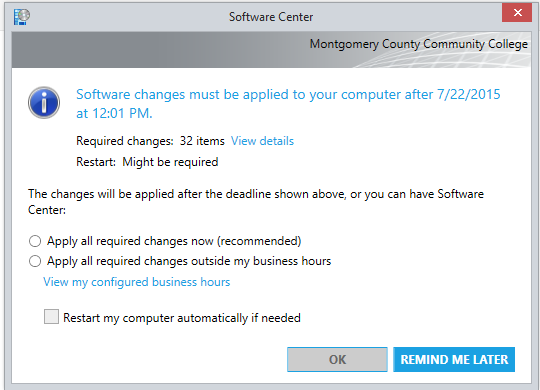 Deadline
If you do not install updates prior to the deadline, the system will automatically install all outstanding updates and notify you from the system tray.

Restart and Final Notification
If the system requires a restart to complete installation of the updates, you will be prompted with a notification that the system will restart in a set amount of time, typically 4 hours.

Clicking the balloon notification allows you to review the system restart timer and take action to "restart" or "hide". Hiding the dialogue box puts an icon in the system tray that you can revisit at a later time.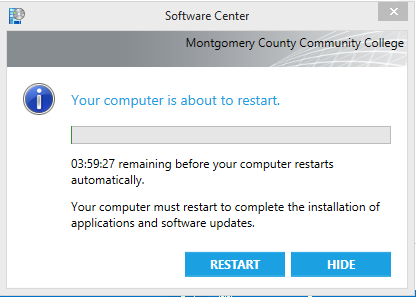 Users will receive a final notification 30 minutes prior to the scheduled system restart. This notice cannot be hidden and is intended to provide you advance warning that the system will automatically shut down and restart. Users should take steps to save all work and restart their system immediately.