Faculty, Staff, and Students - Logging into your MC3 Zoom Account
Article ID: 11444 |
permalink
| Rating: 5/5 from 1 votes | Last Updated: Thu, Nov 18, 2021 at 3:35 PM
| | |
| --- | --- |
| | 2021 |
---
Faculty, Staff, and Students - Logging into your MC3 Zoom Account
The following steps will walk you through properly logging into your MC3 Zoom account so that you are properly authenticated into your meeting. If you were named as a Host of Co-Host of a meeting, and you are not properly authenticated, Zoom will not recognize you as a Host or Co-Host. Depending on the meetings settings, this will prevent you from accessing Host abilities such as Screen Sharing and Breakout Rooms, or it may prevent you from being able to enter the meeting altogether, so it is very important that you are properly signed in.
1) Once installed, double-click on the Zoom icon on your desktop to open Zoom.

2) Click "Sign In", and then select the "SSO" option along the bottom.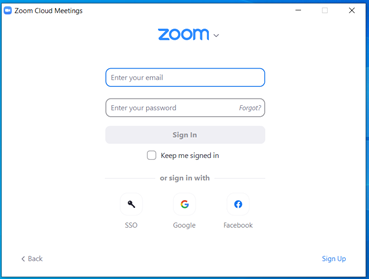 3) On the next screen, it will ask you for the company domain. Type in: mc3-edu
(NOTE: Make sure it is a dash and not a period!)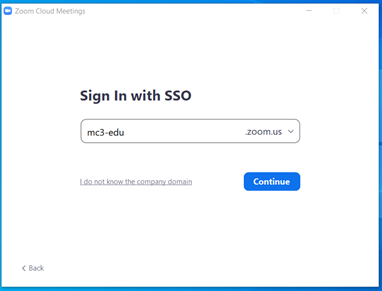 4) You will then be prompted to enter your mc3 login credentials.
      - Enter your credentials and you will then be properly logged in and authenticated into Zoom.
5) You can now click on your Zoom meeting link and enter your meeting. If you were designated as a Host or Co-Host, the system will recognize you as such and automatically promote you.