Faculty - Adding Tutor.com to your Course Menu
Article ID: 2766 |
permalink
| Rating: 1/5 from 1 votes | Last Updated: Thu, Jan 26, 2023 at 5:45 PM
| | |
| --- | --- |
| | 2018 |
---
Faculty - Adding Tutor.com to your Course Menu
 
Step 1: With Edit Mode on, choose the plus sign (+) at the top left of your main menu and choose Tool Link.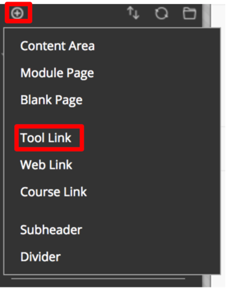 Step 2: In the name box, write Tutoring. In the Type drop down choose Tutor.com.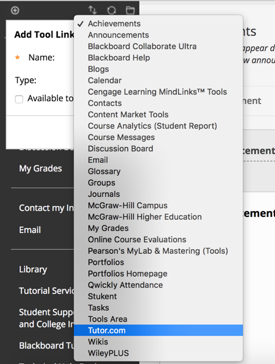 Step 3: Make sure Available to Students is checked off. Click Submit. The Tutoring link will appear at the bottom of your menu. You can hover to the left of the link to get arrows, which will allow you to drag and drop the link elsewhere on your menu.