Entering Assignment Contracts
Article ID: 1112 |
permalink
| Rating: 1/5 from 1 votes | Last Updated: Wed, Jan 12, 2022 at 12:05 PM
| | |
| --- | --- |
| | 2022 |
---
Entering Assignment Contracts
Note: Before creating an assignment contract, verify new faculty have been entered info FCTY .
If an Assignment Contract needs to be entered, click on Faculty Assignment , which is at the bottom of the screen.
Open SECT
Open the appropriate section
Click on the Detail button  next to Faculty Assignment .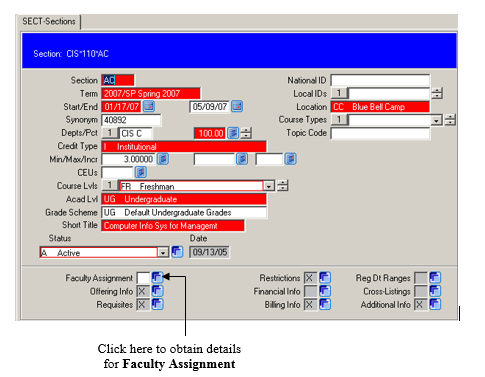 The following 5 fields need to be filled out in order to complete an assignment.
Contr Type
Instr Meth
Position
Load
Load Period (automatically filled in from the SECT screen)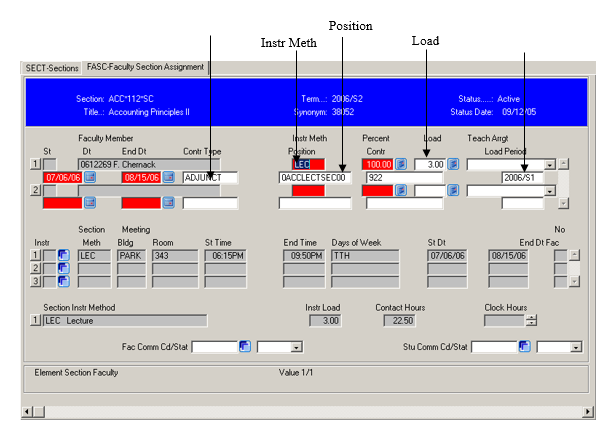 | | |
| --- | --- |
| 1. | The field Instr Meth , Instructional Method, should have filled in automatically from the SECT screen. See also 'Be Aware' below and SOFF instructions. |
| | |
| --- | --- |
| 2. | The field Load is the Instructional Load or the number of credits used to determine the faculty's pay. If this is left blank or has a zero in it, that faculty member will not get paid . |
BE AWARE: If this number does not always match the number of credits of the course. Some courses are intentionally left blank — this is because the load varies from term to term. Enter the appropriate load for that term.

** If this is a Nursing course or Nursing Lab course, the Load will reflect the number of hours.
3.

If the faculty member is to be paid through Assignment Contracts, the Assignment Contract type must be entered.

 

4.

In the field called Contr Type , enter the contract type if you know it or type in 3 consecutive periods, '…' and press [Enter] .

 

5.

This will give you a list of all the contract types available.
BE AWARE: The summer terms change from year to year so they will not be listed. Please refer to the email from IT on how to access the summer term contract types. Following are the contract types to be used for the Fall and Spring terms.
** Remember that the Assignment Contract Type is what determines the pay rate for the faculty member so it is very important to make sure you enter the correct one.
| | |
| --- | --- |
| Assignment Contract Type | Payrate |
| ProbAdj | Probationary Adjunct Faculty pay rate |
| Adjunct | Adjunct Faculty pay rate |
| SrAdjunct | Senior Adj. Faculty pay rate |
| Overload | Full Time Faculty Course Overload pay rate |
| Nur.Adj | Nursing Adjunct hourly pay rate |
| Nur.Lab | Nursing Adj. hourly lab pay rate |
| Sr.Nur.Adj | Senior Nursing Adj. hourly pay rate |
| Sr.Nur.Lab | Senior Nursing Adj. hourly lab pay rate |
| ProbNurAdj | Probationary Adjunct Nursing hourly rate |
| ProbNurLab | Probationary Nursing Lab hourly pay rate |
| | |
| --- | --- |
| 6. | The next field to enter is the Faculty members' position. This is found in the field called Position . In this field enter 3 consecutive periods, '…' . |

7.

The screen will then prompt the user to pick a position with the following question: Select from all current positions for this faculty member (Y/N).

 

***If you chose ' Y ' and see no positions for this faculty member DO NOT ENTER AN ASSIGNMENT CONTRACT — cancel out of the screen. This person has not been entered into Colleague yet by the HR Department. Under special circumstances, if you see positions but do not see a position to match the course, you can choose ' N ' and then choose ' Y ' to scroll through all the positions.
BE AWARE: that this will create a new position for this person in Colleague. If you are entering an OVERLOAD assignment for a full time faculty member, be sure to choose the overload position and not the regular one.
8.

Normally you will enter ' Y ' to pick one of the positions the person currently has.

 

9.

The next available field is called Contr and is not used by us. This is a number assigned by Colleague for the contract. It should fill in automatically with a number after the screen is saved.

 

10.

The next field called Load Period should have defaulted in from the SECT screen. If this is empty or incorrect, enter the correct term or enter 3 consecutive periods, '…' to choose a term from the lookup list.

 

11.

Save the FASC screen by clicking  Save.

 

12.

At the SECT screen, click Save.
Sections with Multiple Instructors

Course sections that must include multiple faculty names should have this information entered consistently. These data are essential to correct reporting out for faculty evaluations, and mistakes will create additional difficulties.

Any instructor that is assigned to a course for purposes OTHER THAN teaching (e.g. directors) should always have both the Percent Control and Load set to 0.00. All other instructors should have a non-zero percentage and load (see below)

For courses in which faculty are assigned to specific instructional methods (e.g. clinical), the assignment contract must have the appropriate instruction method assigned . Failure to do so will create errors for faculty evaluation reporting.
For example, courses with a clinical component should have all clinical faculty entered with "CLI" as their instructional method.
For courses where a faculty member has multiple instructional methods (e.g. clinical and lecture), an additional entry should be created for this faculty member. Percentage should be = 0%, while load should be divided equally among all entries (e.g. for an instructor teaching both LEC and CLI, they would have a load in each line as half their total).
Independent Studies Courses
Independent studies would be calculated like a pro-rated course only with the number of students divided by 8, rather than 10 (noted in the Faculty Contract 2014-17, section 22.7, page 35). The Load on the FASC-Faculty Section Assignment screen in Colleague would be this number times the number of students. The Contract Type and Position would be the same as it would normally be for the faculty member.

Dual Enrollment Courses
Dual Enrollment/Credit would still need to be entered when the amount and person to be paid is provided by Director of Dual Enrollment. If it is being taught by MCCC faculty at MCCC, then the pay can be submitted as soon as it is confirmed that the course section will run and the person would be paid as you would pay him or her for any other course section. If it is being taught at a high school, then the liaison will be added to the Colleague course section on the FASC-Faculty Section Assignment screen similar to how you would enter a faculty member assignment, only with the credit amount provided by Joyce in the Load section. *Please note that the Dual Enrollment/Credit course section pays cannot be entered until the information is provided to the administrative support staff by Joyce. This doesn't occur until after the high schools start back and it is confirmed that there are enough registrations to run the section. This is usually not right a that the start of the semester, so these may not be able to be entered by the first run of CLPS.

Dual Enrollment Liaisons
The semester is set up in Colleague with the semester start and end dates, so a dual enrollment liaison assignment that crosses semesters (Ex. fall into spring) cannot be entered into the FASC screen in Colleague. Please use an electronic stipend for dual enrollment liaison pays that cross over semesters. Payroll will manually handle the payment of these sections.
Important Points to Remember

The following are a list of things to remember when you are entering assignment contracts:

Non-faculty members who teach a course get paid with a manual stipend which is sent on paper to the HR department.

All non course work by a faculty member is paid with a manual stipend which is sent on paper to the HR department. This includes work such as Dept. Coordinator or other special assignments. Most Independent Study courses are also paid through manual stipends.

If the start date of the course is earlier than the start date of the term, this must be paid through a manual stipend sent to the HR department.

If the end date is past the end date of the semester this must be paid through a manual stipend sent to the HR department.

Deleting an Assignment Contract

See also