Article ID: 352 |
permalink
| Rating: 1/5 from 1 votes | Last Updated: Wed, Jul 27, 2022 at 9:41 AM
| | |
| --- | --- |
| | 2016 |
---
ImageNow: WebNow Search Options
Using ImageNow, you can efficiently capture and organize all types of documents, then retrieve a precise page instantly from within any business application at the moment it's needed.
ImageNow can be accessed either on the School's desktop computers or through the light web client called WebNow. 
Accessing WebNow
Log into the Portal.

 

Under Tools, click ImageNow/WebNow

 

OR type the following URL into your web browser:

https://webnow.mc3.edu/webnow/

 

Note: Please use Internet Explorer to access Webnow

 
Enter your username and password; this will be the same as your MCCC network password.

 

 
Two Ways to Search
| | |
| --- | --- |
| Menu | Toolbar |
Filter Searches
In a document view, go to Quick Search and identify the following:
From the first drop down, select the desired Property.

From the second drop down, select the desired Filter. 
Enter the name you want to search for in the text box. Click the Green Arrow button next to "Go". 
Search returns all relevant documents. 
If you need more than one search criteria, use the Search tab instead. 
Use the green plus sign to add queries to the search window. Fill in the search fields and click OK.
To add additional criteria to the search, click the plus sign again.
Click the Green Arrow next to "Go" to retrieve the results.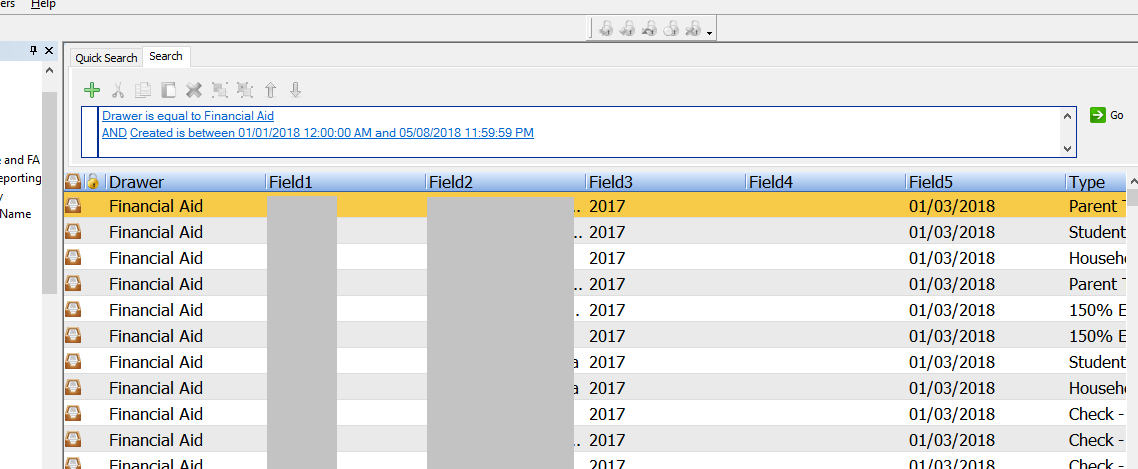 ** NOTE: The display will only return 10,000 documents. You may have to do several queries to retrieve a large time period of document counts depending on the number of documents stored in the workflow you are searching.