CROA - To change the page layout
Article ID: 699 |
permalink
| Rating: 1/5 from 1 votes | Last Updated: Mon, Jun 6, 2022 at 9:57 AM
| | |
| --- | --- |
| | 2015 |
---
You can view the report in Page mode. In this mode, you can more easily envision the final appearance of your report. This mode shows the edges of each page, and you can tell if any objects are placed outside the page margins. You will also change the page layout to Landscape, so that you can fit next to and below the table charts that show supporting information in an attractive way.
First, go to the bottom of the Web Intelligence report and click the Page icon to change the layout mode to Page mode.
     2. In the percent menu next to the Page icon, select 75%.
     3. To change the page layout, click the Page Setup tab, and then the Page subtab.

   4. Click Portrait and select Landscape from the dropdown list.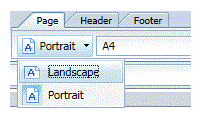 The report page changes to landscape.
  5. Adjust your browser window so that you can see the entire report page.
  6. Save the document.