Best Practice: Closing the Loop
Article ID: 377 |
permalink
| Rating: Unrated | Last Updated: Tue, Dec 3, 2019 at 7:31 AM
Best Practice: Closing the Loop

Some flags do not allow the person who raised the flag to see notes entered for the flag after it's been raised. This means that the person who raised the flag will not be able to view the comments entered when the flag is cleared and will not therefore know any details about the resolution of the flag. It is sometimes important to hide these details from the flag raiser to protect the student's privacy. However, anecdotal evidence shows that the best way to motivate people to raise concerns about students consistently is to let them know their previous efforts have helped a student.

Starfish has created the Close the Loop functionality to address this very issue. With this functionality, when you clear a flag dealing with a sensitive concern, you are able to communicate to the flag raiser (e.g., instructor) that the issue has been resolved without divulging private information — thus closing the loop.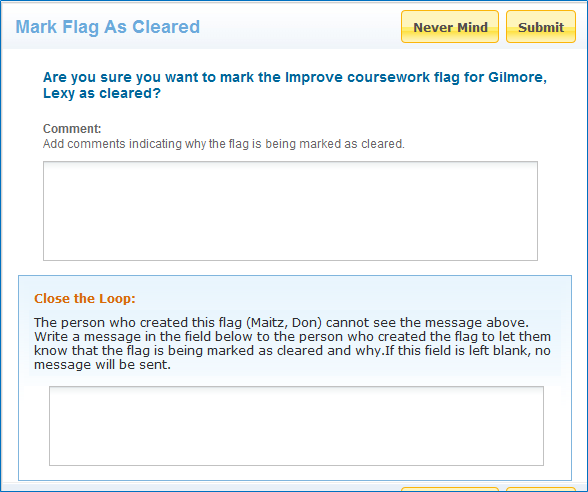 If you are clearing a flag and have the option to enter a Close the Loop note, it is always a good idea to do so in order to encourage people to continue to raise flags and help students.
---