Office 365 - Outlook Web Access OWA - Customize features
Article ID: 519 |
permalink
| Rating: 3/5 from 2 votes | Last Updated: Mon, Mar 14, 2022 at 10:24 AM
| | |
| --- | --- |
| | 2016 |
---
Office 365 Outlook Web Access (OWA) customize features
How to Open Outlook Web Access
Once you have logged into the Montco Connect (connect.mc3.edu) you will see a tool category on the left hand side.
Under the tools option you should see the link for "Employee Email"
Expanding to see other folders
When you first log in you will see your Inbox folder on the left hand side with "More" below it. To expand and see any of the sub folders within the Inbox that you have created just click on the "More" and it will expand down and show all the folders.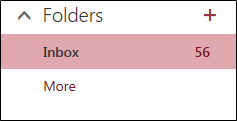 Expanded out;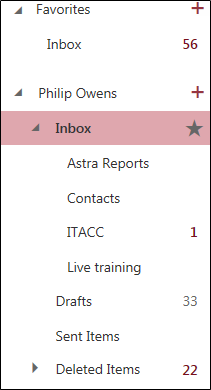 Sorting the Inbox
You can sort the items in the Inbox by clicking on one of the links at the top of the screen.

Or you can click on the drop down called

 in the upper right hand side to see a larger menu;

 You can also switch conversations on/off in this menu above.
Display Settings
In order to change in what order and what manner your email is displayed, you will have to edit your Display Settings.  Click on the

 in the upper right hand corner and then select Display Settings.
There are three tabs within Display Settings; Message List, Conversations and Reading Pane.  Go through each tab and make your selections based on how you would like to have your email displayed. 
To change where the reading pane is located, click on the Reading Pane tab and select either pane on the right, bottom, or hide reading pane.  When you are finished making all of your selections, click on the Reading Pane tab and verify that the checkbox at the bottom is checked so that these preferences will be used in all of your email folders.  When you are done, Click on the OK at the top of the window.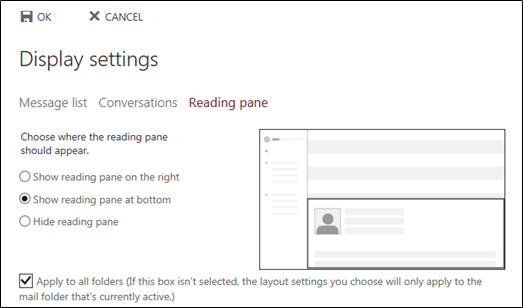 Opening another Mailbox
To change to another Mailbox, click on the upper right hand corner where you see your picture or this;

Scroll down the box that opens up to Open another mailbox...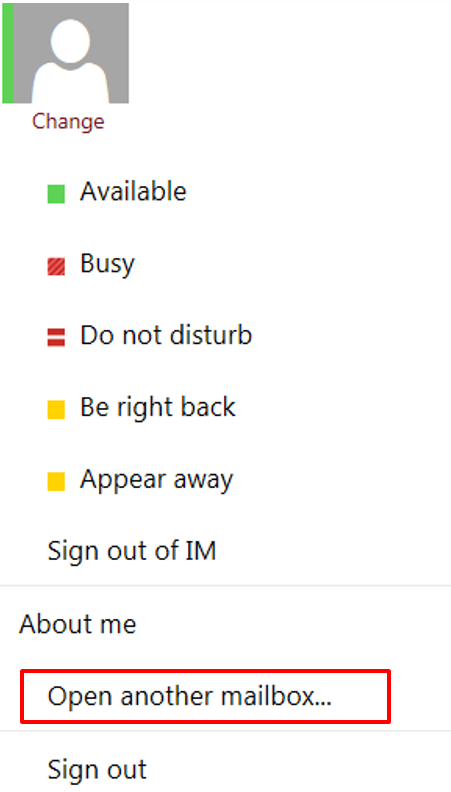 In the window, type the name of the mailbox you wish to open and press enter.  When you see the mailbox you are looking for, click on Open.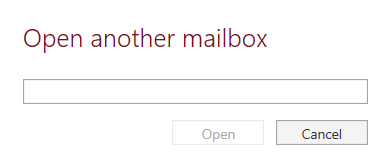 Conversations
In OWA you have the ability to view email threads as conversations rather than a long email thread.  The conversations choice will collapse down all the emails related to each other and just show full details of the last item.  
To turn the Conversation view off:
Click Allin the upper right corner of your Inbox
Select Messages under View As