Connecting Personal Devices To an MC3 Laptop
Estimated Reading Time: 2 Minutes
| | |
| --- | --- |
| | 2020 |
---
Connecting Personal Devices To an MC3 Laptop
Most MC3-issued laptops will have some or all of the ports described below for the purpose of connecting personal devices.
Common Windows laptop ports
USB
HDMI
Ethernet
Headphones
Pictured below is a USB port:
This type of port is most commonly used to connect printers, external hard drives, USB flash drives, headphone/microphone combination headsets, and wired mouses or keyboards.
This is an HDMI port:
This type of port is used to connect an external computer monitor or an LCD television.
Pictured is an Ethernet port and cable:
This port is used to connect your laptop to an internet service provider's modem/router. This provides a wired connection to the internet and your home network (if you have one).
Finally, here is an example of a headphone port: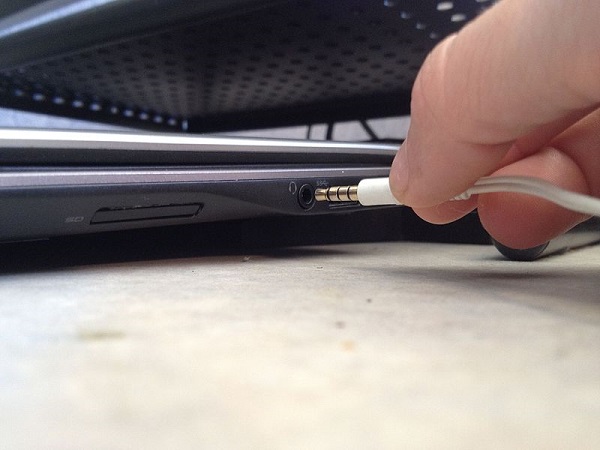 This port is used to connect headphones, external amplifiers and/or loudspeakers.
Common MacBook ports
USB
HDMI
Thunderbolt
Headphones
An example of a each type of port on a MacBook: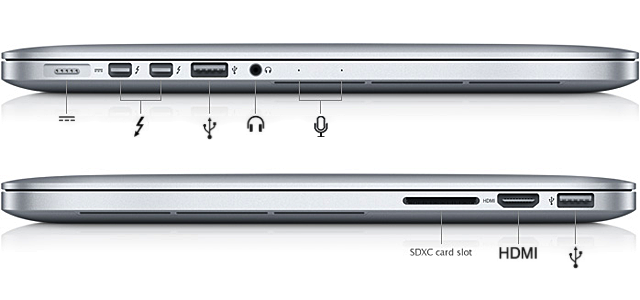 The USB, HDMI, and headphone ports function the same on a MacBook as they do on Windows laptop. The thunderbolt ports are used to connect a variety of external devices, including but not limited to external monitors, hard drives, and Ethernet cables (using an adapter).
Rules of Thumb for Connecting Personal Devices to a laptop
Most USB-connected devices are designed to be plug'n'play, that is, they will be recognized by the computer and necessary software will be installed to make them functional. Printers can be an exception - please refer to your product's documentation - as you may need to install required software first before you plug in the printer.
External monitors must be set to accept input from the type of connection you are using. For example, an external monitor must be set to receive input from an HDMI cable if you connect to that port.
External monitors can be set up to duplicate or extend the image shown on the laptop's built-in display. On a Windows laptop push the 

Windows key and the letter P simultaneously to select the view you desire. On a MacBook choose the "Displays" icon in System Preferences and then choose the the desired configuration using the "Arrangement" tab.
Headphones are mostly plug'n'play, but you may need to adjust sound settings on a Windows laptop to hear sound through them. Right-click the Windows symbol at the bottom left corner of your screen and choose "Settings". Select "Sound" and then you will see a drop down menu where you can choose your output device.