Faculty - Flipgrid: Providing Feedback to Student Videos
Article ID: 4822 |
permalink
| Rating: 5/5 from 1 votes | Last Updated: Mon, Jan 10, 2022 at 4:11 PM
| | |
| --- | --- |
| | 2018 |
---
Faculty - Flipgrid: Providing Feedback to Student Videos
When setting up your topic, you had the option to set up feedback settings. You can access these settings again by going to your discussion topic and selecting the pencil to edit your topic options. You will find the feedback option at the bottom. Please note you can only leave feedback on initial student videos and not replies. 
 

Setting up Feedback

1a: If basic feedback is selected, you can provide feedback based on a student's performance or ideas. These settings are standard with basic feedback and can't be changed. 

1b: If custom feedback is chosen, you have the option to enter your own criteria by selecting "Add Criteria." 

A pop-up will appear and you can enter a criteria name, description, and point value.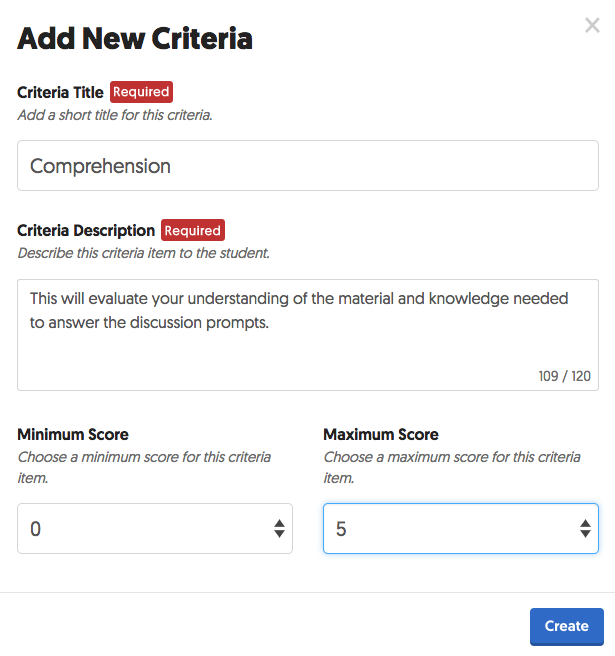 Once all your criteria is created, you can select and unselect specific criteria you created based on need. 

Providing feedback to a student video
1.  In a topic discussion, select a student's initial video you would like to leave feedback on by selecting the title. 
2. You will use the feedback tab to leave feedback. 
2a: Feedback tab - Select this tab to access the feedback features. 
2b: Private video feedback - Selecting this button will pop-up a video recording screen that will allow you to provide private video feedback to the student. Selecting the gear (options) in this screen will also allow you to upload a pre-created video feedback to the student. 
2c: Grading rubric - Based on the grading criteria set up, you will use the criteria drop downs and select the score you wish to provide the student based on the criteria name (i.e. Presentation). 
2d: Written feedback - You can leave specific written comments about the student's video to further help them understand where they excelled or could show improvement/clarification. 
2e: Copy feedback - By selecting "Copy Feedback Link," you can choose to share this feedback with the student via a URL link and Passcode the student would enter to access the feedback. You need to send the Passcode along with the link for the student to access the feedback. 
2f: Email feedback - By selecting "Email Feedback to Student," you will generate an email to the student's email account that contains their scores on the criteria as well as an written comments.