Advising Rush Week- Office Hours Setup
Estimated Reading Time: 2 Minutes
Tips & Tricks: How do I quickly setup my calendar for advising rush week?

Starfish CONNECT has a Scheduling Wizard feature to allow advisors and other student support staff to schedule a number of office hour sessions at once. This feature is particularly useful for advising rush weeks, midterm course meetings or other scenarios where a faculty or staff member has several individual office hour sessions for students within a week.

To schedule office hours using the Scheduling Wizard:
Navigate to the Appointments tab.
Select the Scheduling Wizard link in the action bar.


Complete the first page of the scheduling wizard by entering the description, appointment types, location and other details that should be applied to all of the office hour blocks that are to be created. If one or more office hour blocks should have different details than the others, they will need to be created separately.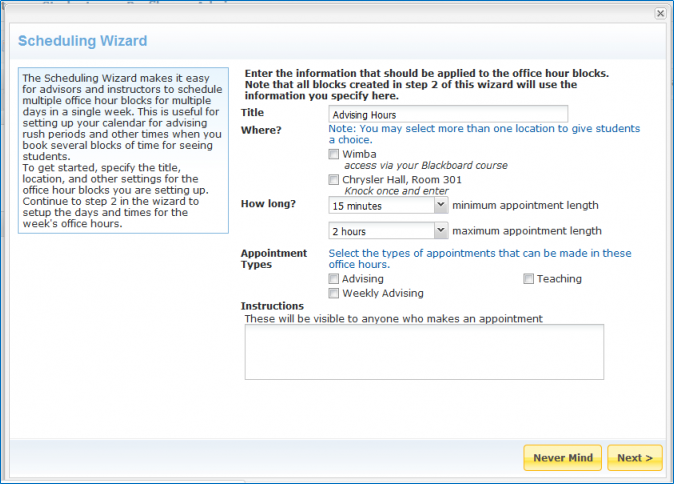 Select the Next button to continue.
Use the date arrow buttons at the top of the next page to navigate to the week in which you want to schedule the office hours. Note that you can only schedule one week at a time with the wizard.
In the selected week, enter the start and end times for each block in the appropriate day columns. You can schedule multiple office hour blocks on any day within the week. If you need to schedule more than three blocks on any day, select the Add Another Block link in the column for that day.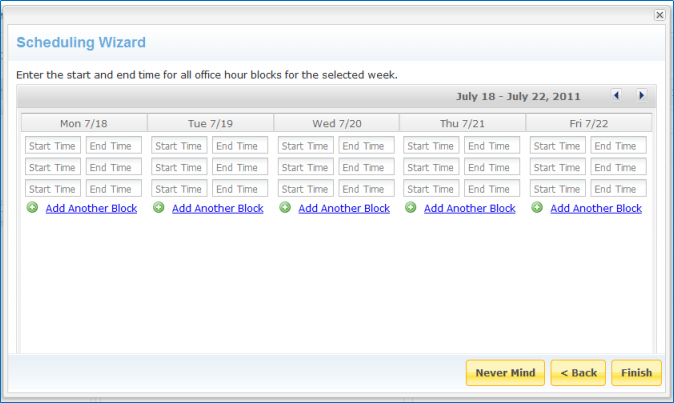 When all office hour blocks have been specified, select the Finish button to complete the process and create all of the office hour blocks. Note that if there are any conflicts with any of the blocks you have specified you will receive an error message that details the conflicts. Make a note of these conflicts and return to the wizard to edit your blocks and retry submitting the form.
---