SEP Test Scores and Unofficial Transcripts
Article ID: 266 |
permalink
| Rating: 1/5 from 1 votes | Last Updated: Wed, Jun 29, 2022 at 1:55 PM
 

2015
Search and Register — Student Self-Service Portal
From the Student Planning tab, you have access to any of the following which apply to you:


 

 

 

 

Click on any of the tabs at the top
Student Finance — Make a payment plan, Account Activity, Pay for Registration, Registration Activity
Student Planning — Create an academic plan, browse courses, see your plan and schedule, see academic requirements for a course, etc.
Financial Aid (only if applicable)
Employee (Only is applicable)
Graduation Overview — Apply for graduation
Note: You may also find these options in the menu on the left side of the screen from any section of the Self-Service portal
Student Educational Planning — Test Scores
 You may access your test scores by clicking the Student Planning button, as depicted above, and choosing Test Summary from the Academics drop-down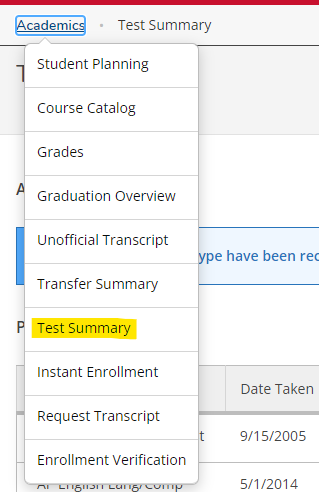 The Test Scores tab shows placement tests that the student has taken and details of the test. Details include:
Test Name
Date Taken
Score
Status

Unofficial Transcript
 You may access your Unofficial Transcript by clicking the Student Planning button, as depicted above, and choosing Unofficial Transcript from the Academics drop-down
Note: To obtain the official transcript, visit the College's registrar's office.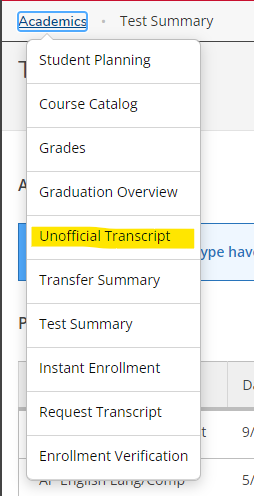 You can click on the transcript you would like to download, or right click and choose "Save link as" to choose a location to save.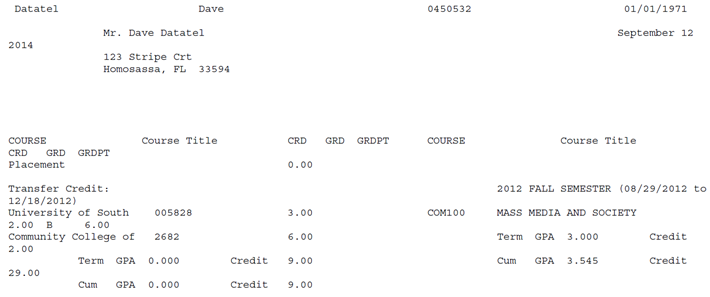 \