Configuring Dynamics CRM - Workforce
Article ID: 1410 |
permalink
| Rating: 1/5 from 1 votes | Last Updated: Tue, Jan 25, 2022 at 11:25 AM
| | |
| --- | --- |
| | 2018 |
---
Configuring Dynamics CRM - Workforce
Configure Dynamics CRM
2.  In the upper right corner select settings (gear icon).

3.  Select Options.
4.  Under the General tab change the following options:
Records Per Page set to 250
Advanced Find Mode set to Detailed
5  Under the Email tab change the following options:

6.  Under the Privacy tab change the following option:
Select Never send an error report to Microsoft about Microsoft dynamics.
7.  Select Ok at the bottom right of the window that appears.
Configure Outlook Connector
1.  Launch Outlook and the Add a Microsoft Dynamics CRM organization will appear.
2.  Enter https://recruiter.mc3.edu/coned in the url as shown below.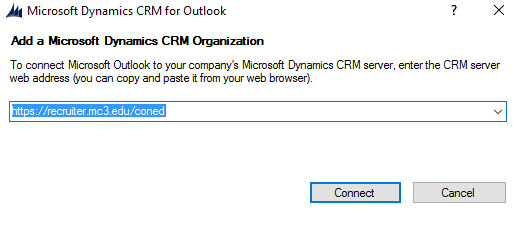 3.  Click Connect.  While the configuration occurs you will see a process bar this might take 5 minutes.

3.  After the configuration is complete you will see a new CRM tab in outlook and in the navigation area at the bottom.
4.  Click the CRM tab (see below).

Navigation area is located at the bottom left of your Outlook window.

Notice the CRM options on the Home tab shown below.

Configure the Outlook Connector Settings
1.  In outlook select File > CRM > Options
2.  Select the Email tab
3.  Check the box for Allow Microsoft Dynamics CRM to send email using Microsoft dynamics CRM for outlook
4.  Check the box for Check incoming email in outlook and determine whether an email should be linked and saved as a Microsoft dynamics crm record
5.  Set Track to Email messages from crm leads, contacts and accounts

6.  Select the Address Book Tab and then select Match All people in Microsoft Dynamics CRM and Match all items in Microsoft CRM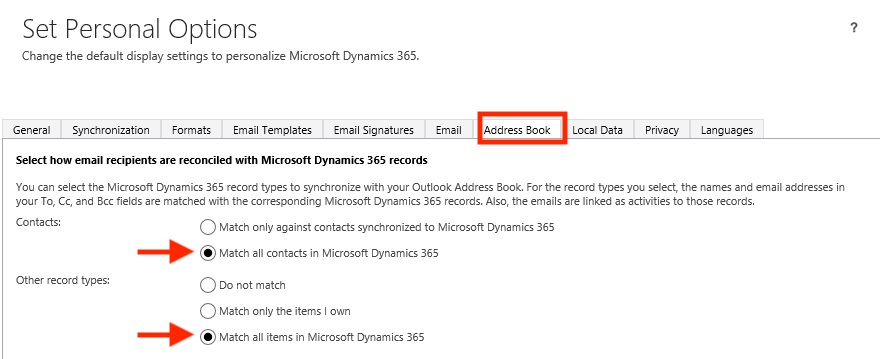 7.  Select OK at the bottom of the screen
 Now that the initial configuration is complete you can start tracking contacts and accounts in the CRM from within outlook.