Faculty - Moving Your Zoom Recordings to your TechSmith Knowmia Library
Article ID: 11359 |
permalink
| Rating: 1/5 from 1 votes | Last Updated: Tue, Jan 25, 2022 at 10:08 AM
| | |
| --- | --- |
| | 2020 |
---
Moving Your Zoom Recordings to your TechSmith Knowmia Library
You can move your Zoom recordings to your TechSmith Knowmia Library. This will allow you to caption your videos as well as use other tools available in TechSmith knowmia.
Step 1: Downloading Zoom Recordings
There are two main steps in this process. You have to first download your recordings from Blackboard Collaborate Ultra to your computer. The second and final step is to upload that video to your TechSmith Knowmia Library. Lastly, after you upload your video to TechSmith Knowmia, you will need to delete it from Zoom.
1.  If you saved your recording to the cloud, you will receive an email from Zoom when that recording is completed. Click on the "host" link as shown below. If you did not receive an email for your recording you may try to locate the recording by going to the following site and signing in with your College credentials: mc3-edu.zoom.us.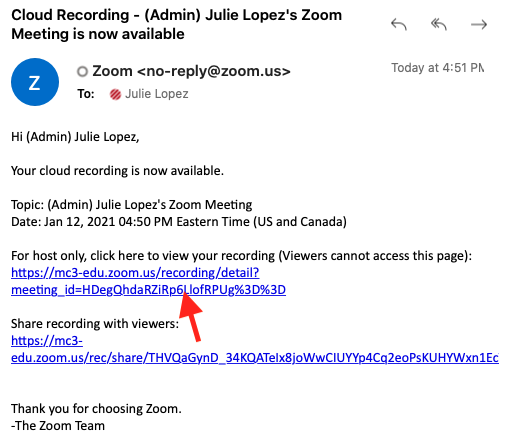 2.  This page displays. Click on the Download button.

3. This will download your recordings to your "Download" folders on your computer.
Step 2: Uploading Your Zoom Recordings to Your TechSmith Knowmia Library
1.  Open your browser and navigate to https://mc3.techsmithrelay.com. Note that you may be prompted to log in with your MC3 credentials.
2.  Make sure you are in your library and then click on the Create button.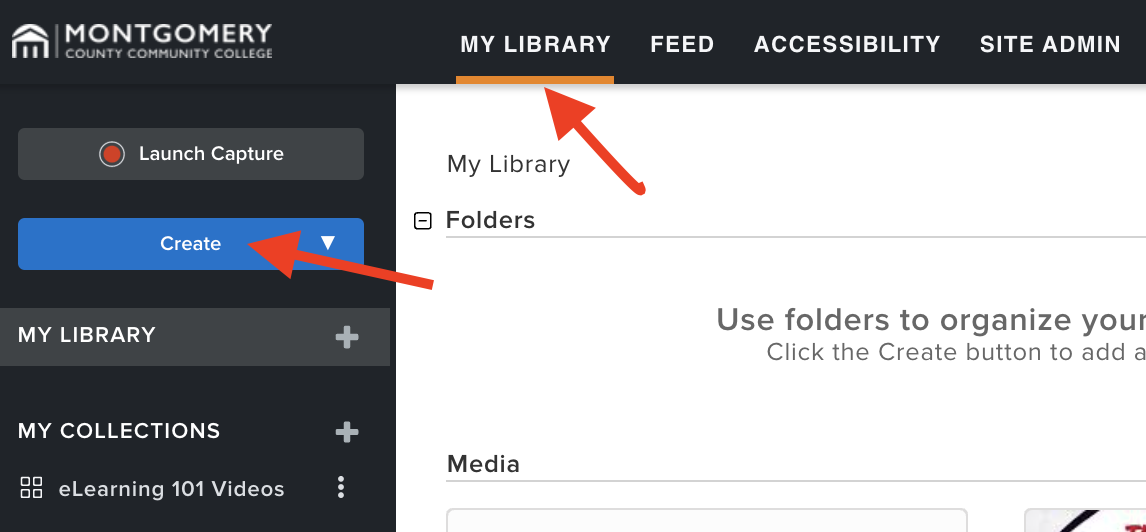 3.  A dropdown menu appears. Click on Upload Media.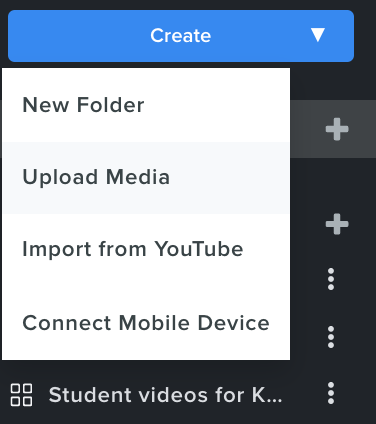 4.  Navigate to your Downloads folder and locate your Zoom recording and select it.
5.  The following will display. You can choose more files or you can click Close when you are done.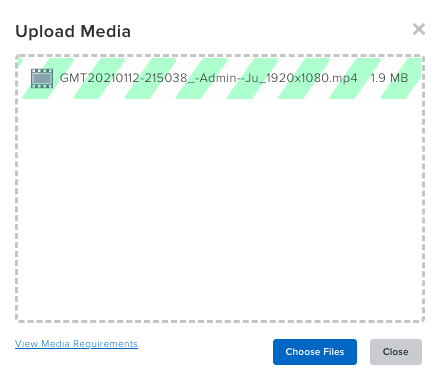 6.  You will be returned to your TechSmith Knowmia Library and your video will be displayed and uploaded there.
If you are interested in additional features of TechSmith Knowmia, feel free to search the Knowledge Base. 
Deleting your Video From Blackboard Collaborate Ultra
Now that you have downloaded the recording, and uploaded it to TechSmith Knowmia, you need to delete it. Before you delete it, make sure you successfully uploaded it to TechSmith Knowmia in Step 2 above.
To delete your recording from Zoom:
1.  Open Zoom and login in with SSO.
2.  Click on Meetings.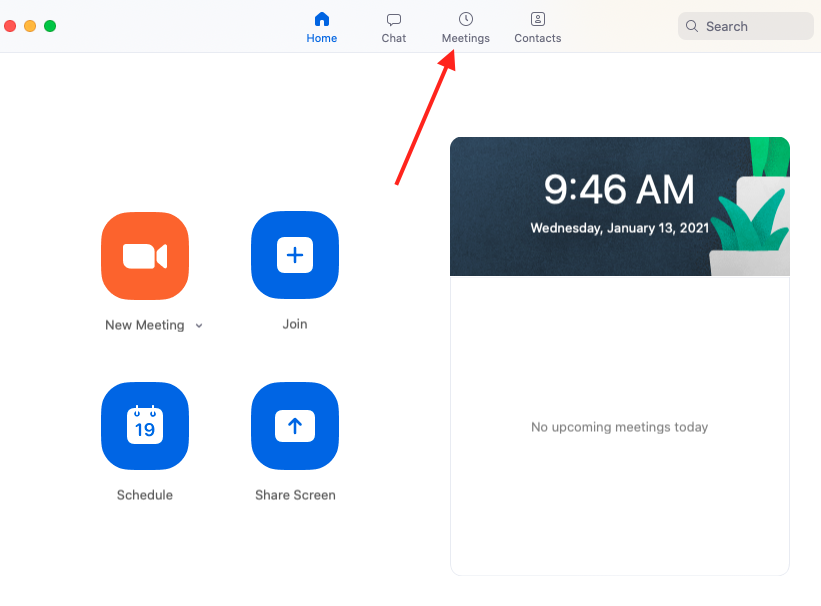 2.  Click on the Recorded tab at the top and then locate the video you uploaded to TechSmith Knowmia and click Open. 

4.  Click the trashcan icon next to the recording to delete it from Zoom.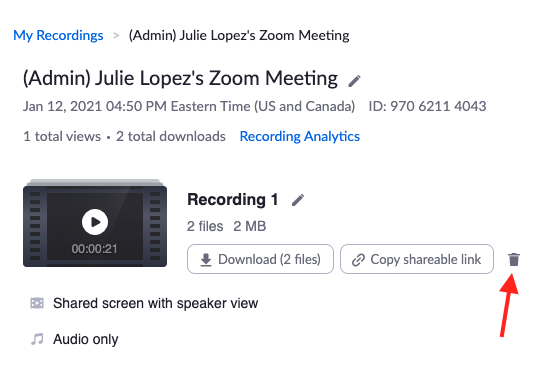 5. Click Yes to confirm you want to delete the video.